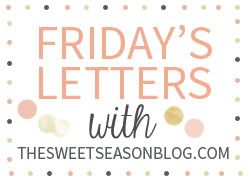 I really enjoyed linking up with Ashley at
The Sweet Season
last week, so I'm back again with more
Friday's Letters....
Dear Friday - THANK YOU, THANK YOU, THANK YOU for finally getting here! We all know you are not just any ordinary Friday, you are the Friday before Spring Break... the Friday we have all been dreaming about since January 2! Sandy was a real b*tch for taking our February break; the kids really want need this time. Even better, we get to spend a whole week with the boys, so again I say THANK YOU!!!
So gald you are here :)
Dear DisneyWorld - Get ready, we are coming for you!!! SO unbelievably excited to have officially booked our summer vacation, thanks only to our amazing parents (mine & Jay's both!). I swear, my kids really have the most fantastic grandparents. EVER. THE END.
Dear Mall - I'm coming for you, too! Cannot wait to spend tomorrow walking your halls, browsing your beautiful retail spaces with nothing but my best friend and cup of hot chocolate. I'm really looking forward to the kid-free girl time & some much needed retail therapy. Momma's gonna grab a few things. Hey, I deserve a reward for keeping this baby weight off for 6 months, don't I???
Dear Jay - You. Are. Amazing. I know I don't tell you enough. I love you, and I love how hard you work for us. I can't imagine how hard it is for you to juggle working so much and hardly sleeping, but you somehow manage to keep it all together, and I wan't you to know how very grateful I am that you do.
Dear Spring - I know I wrote you last week, but where the heck are you??? I want to retire my down jacket! I want to get a pedi and break out my flip flops!! I want to start running outside!!!
Hurry. Up. PLEASE!!!!