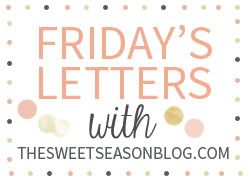 Linking up with
Ashley
at
The Sweet Season
for Friday's Letters,
and sending her a huge congrats on her baby boy news!!!
Dear Yankees
- Thanks for
finally
putting one in the win column. Getting swept by Boston in the opening series would've been a really bad sign for the rest of the season. My house was a much more pleasant place last night, now
I have a happy hubby!
Way to go Mo!!! (Newsday)
Dear Cold
- Please, please,
PLEASE
go away!!! The boys are coming early this week, and Jay is doing a double tomorrow so I will be all alone with all five lovelies. I need all the strength I can get to chase after these guys!!! I
CAN'T
be sick!
Ain't nobody got time for that!!!
Dear IRS, NYS & NYC
- Thank you much for being Johnny on the Spot with our tax refunds. The reduction in stress that has provided is greatly appreciated! So nice to not have to worry about money,
even if it will only be until next month :)
Dear Little League
-
Where are the schedules???
I am having a tremendous amount anxiety about juggling the boys baseball schedules for the spring. It is going to take a lot of finagling between the three boys and making it fit into our visitation schedule. I'm really worried about it and
want
need to plan!
Dear Husband
- My dear lobster - I know I don't say it enough, but
I love you to pieces
. You really are the best hubby and daddy any family could ask for! I love how you make me feel about myself, you always find a way to pick me up when I am down.
I appreciate you
and how hard you work for our family
so much
. I hope you realize how much you mean to me. You are as vital to me as the air I breathe, I can't even fathom my life without you.
P.S. - I promise I'll try really hard not to throw my ring at you this week ;)
Dear Spring Weather
- Please hurry up and get here already. I am dying to take baby M outside to play more, and really start running outside. I need the sunshine to motivate me!
Warm temps, get here quick!!!